When Canadians hear about literacy, they think it's a problem in other parts of the world. Given that every Canadian child has the opportunity to attend school, literacy rates ought to be much higher. But poverty and undiagnosed learning disabilities are just a few of the major causes for low literacy rates. The literacy problem isn't new and the barriers are many. Poverty and literacy are ideal partners. The environment of poverty makes it difficult for children to succeed.
Hamilton has many challenges. It is a city where one in five people live below the poverty line, and nearly half of the adult population has difficulty reading and writing! If you can read this, you understand that reading is freedom. Children and families with an understanding and appreciation for the written word will be able to explore a much wider range of opportunities in life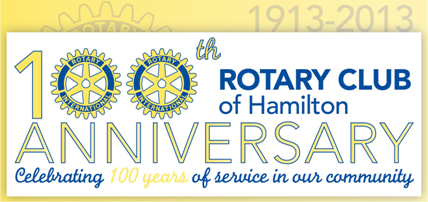 Rotary's Gift of Reading was inspired by a desire to promote a love of reading among young children. Research has shown that reading interventions at an early age are directly related to inspiring students to be lifelong learners, and breaking the cycle of poverty. The 100th Anniversary of the Rotary Club is the ideal opportunity to make a sustainable commitment to the Gift of Reading!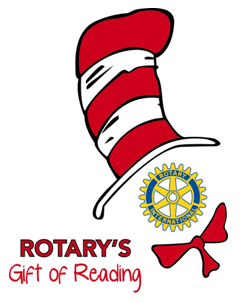 The Goal is to raise $100,000
For the Rotary Gift of Reading Project
This is an additional $100,000
Maintaining our current fundraising initiatives and goals.
Project Highlights:
The 2013 Project will be a comprehensive program geared to literacy. Rotary's Gift of Reading Project enables our Rotary Club the ability to make a significant and lasting gift to our local and international communities. Rotary's Gift of Reading Project is a multi-facet project with the benefits lasting for another 100 or more years.
GOALS:
The Rotary Gift of Reading project enables our Rotary Club to celebrate the 100th Anniversary by giving the gift of reading to children. The gaols are:
To Raise $100,000 of new funds by 2013 for the Rotary Gift of Reading Project
Maintain current fundraising programs to continue our current level of community support, programming and initiatives of our Rotary committees
Build profile for Rotary and to Celebrate our 100th Anniversary
Rotary's Gift of Reading:
The project will focus on four key areas for the distribution of program funds. The Rotary Forever Fund will receive a portion of funds raised for the Rotary Gift of Literacy Project. The Rotary Summer Literacy Program would be the main recipient of funds and Operation Bookworm would enable our Rotary Club to look at literacy opportunities internationally and locally.
Rotary Forever Fund:
A donation for the 2013 project "Rotary's Gift of Reading" is an opportunity to make a lasting and sustainable gift to support literacy in our community.
25% of funds raised are deposited into the Rotary Forever Fund to support literacy projects
Creates sustainability of the 2013 project for many years to come
The use of making a "Birthday wish to Rotary" can be the fundraising campaign
(Approximately $25,000 to be raised)
ROTARY 2013 Legacy:
The goal is to create a $25,000 fund to be used to assist local and international Rotary Projects post 2013. These funds would help to build a small fund to assist future Rotary Boards with projects.
(Approximately $25,000 to be raised)
Rotary Summer Literacy Program: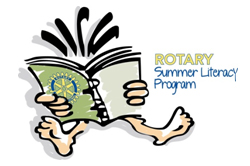 The Rotary Summer Literacy Program would be the main recipient of our 2013 project dollars. The ability to increase capacity at the cost of $65.00 per child is a great opportunity. The possibility to expand and partner with Telling Tales Festival – Every child in Summer Literacy gets to go to Telling Tales.
Direct "sponsor a reader" campaign can be used to raise approx. $50K to operate the program
Additional sponsors/grants can be used to expand sites and program content
(Approximately $50,000 to be raised)
Operation Bookworm: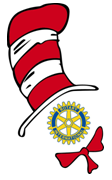 Operation Bookwork is the umbrella for additional Literacy Projects during our centennial year. We know that there are many opportunities to promote literacy internationally and locally:
Reading & Safe Drinking Water – providing books and supplies isn't always enough. Schools in developing countries often lack such basic amenities as toilets and safe drinking water
Rick Broadfoot Book Cart – Additional books and supplies to be added so every child has the opportunity to own their own book
Kindle (e-Reader) for students – Making reading cool. Technology is a great tool to encourage lifelong reading. A Kindle Library to be set up at Cathy Wever School
Apple Dumpling Adventure – This Literacy Project was developed by the Rotary Club of Fairborn, Ohio and is centered on a children's picture book designed to promote the Four-Way Test. The project is approved by the Rotary International Literacy Resource Group and is included in Rotary Reads
Dolly Parton's Imagination Library – Dolly Parton bounced on a stage in Toronto to announce that the Imagination Library (geared to preschoolers) will now be available to children in Canadian communities. For the first time, the program crossed an international border with the goal to make the program Canada's own unique attempt to instil a love for reading in all children.
Book Fair – A one day outside book fair for children and adults. Books would be discounted and families would be encouraged to build their own library
Telling Tales – A unique annual Family Festival of Stories. Raising awareness, support and funs for literacy programs in Hamilton. ( Adult, & Children)
A Century of Service gala dinner and dance on Novemberr 2, 2013  will raise funds required for additional projects.
(Additional funds to be raised)