Junior Achievement Makes a Comeback in Hamilton, Ontario!
Exciting news for Hamilton! The Rotary Club of Hamilton proudly announces the expansion of Junior Achievement of South Western Ontario (JA) programs into our city. This marks a significant development, thanks to Rotary's enduring support for JA. Hamilton's youth now have access to a unique educational approach that combines classroom learning with practical experience, equipping them with vital skills for today's dynamic job market. This expansion, supported by Rotary, ensures that more young minds in our community are poised for future success.
2022 saw the reintroduction of Junior Achievement Programs in Hamilton, featuring initiatives like the Junior Achievement Dollars with Sense and Economics for Success. These programs, sponsored by the Rotary Club of Hamilton at Cathy Wever School, are enriching the educational experience of students in grades 6 through 8.
Moreover, the Rotary Club of Hamilton collaborates with JA each spring for the Career Exploration Day – A World of Choices. This event, held at McMaster Innovation Park, draws over 200 students who delve into various career paths. The Hamilton Community Foundation ABACUS Grant plays a crucial role in supporting this initiative.
The Rotary Club of Hamilton's commitment to Junior Achievement extends to bringing back the Company Program in 2024, reinforcing its dedication to fostering practical learning experiences for Hamilton's youth.
Have a history with JA or interested in volunteering or sponsoring JA in Hamilton? Visit www.jaswo.org or contact us to join in expanding JA's reach to more young individuals in Hamilton.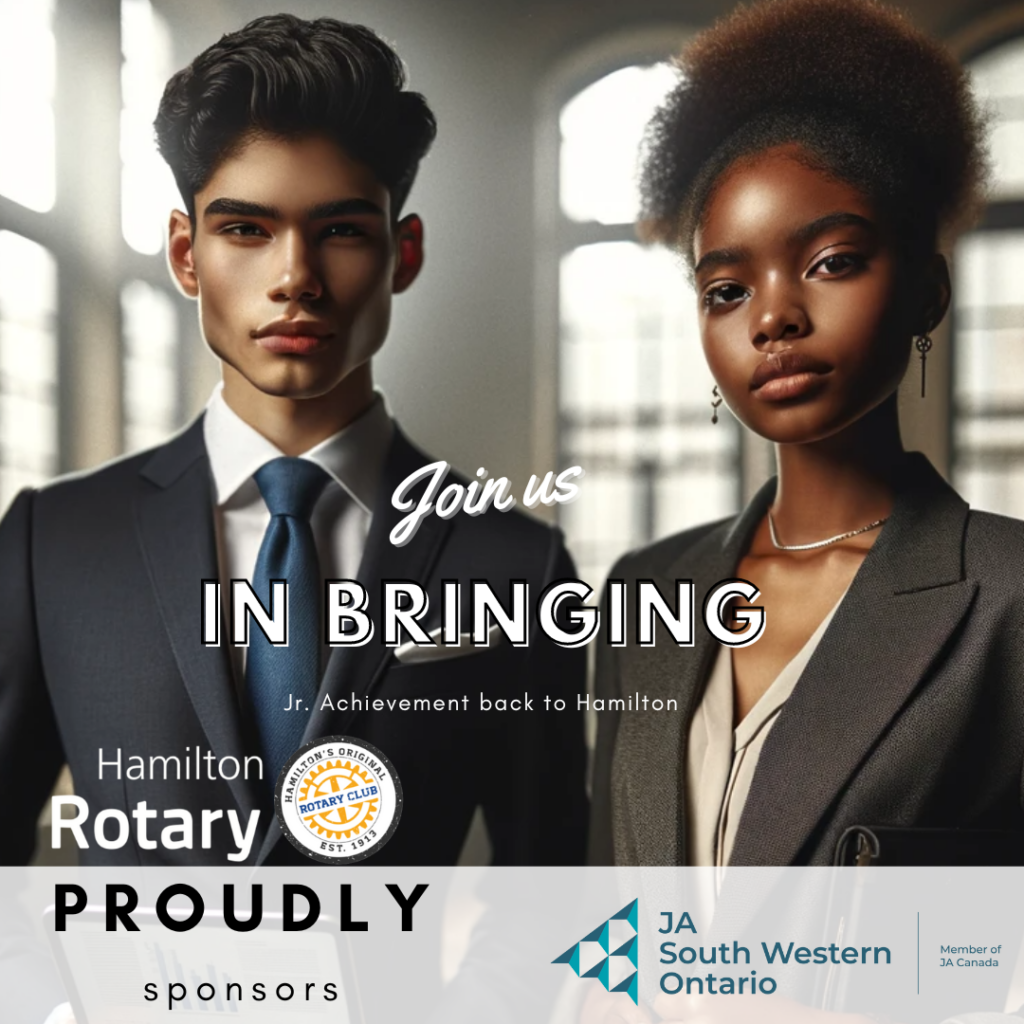 ROTARY HAMILTON: A Pillar of Support for JUNIOR ACHIEVEMENT HAMILTON
The Rotary Club of Hamilton takes pride in reintroducing Junior Achievement programs to the city. As a founding sponsor, the Rotary Club facilitates these programs for grades 6, 7, and 8 at Cathy Wever School. This initiative reflects Rotary Hamilton's commitment to nurturing the potential of young students in our community.
Rotary Hamilton's involvement with Junior Achievement dates back to its inception in Hamilton, including a significant donation of $35,000 in 1980 to bolster the program. This long-standing support has seen many JA alumni emerge as successful entrepreneurs and community leaders. Rotary Hamilton's investment in JA exemplifies its commitment to the future of our community.
JOIN THE JUNIOR ACHIEVEMENT MOVEMENT IN HAMILTON
Rotary Hamilton invites JA Alumni, former participants, sponsors, and donors to contribute to the growth of JA in Hamilton. For years, Rotary members have volunteered their expertise in local schools, delivering programs focused on business, entrepreneurship, and financial literacy. This involvement has empowered thousands of young individuals with skills essential for workplace success. If you are eager to join Rotary Hamilton or sponsor a JA program, we welcome your participation and support.
We'd love to have your corporate support. We need volunteers, materials, supplies and further mentorship with donations. CLICK HERE to get more details.
More information about Jr. Achievement Hamilton you can visit

Summary of Jr. Achievement South Western Ontario.
At JA South western Ontario, we believe in the boundless potential of youth—and we create opportunities for them to explore this potential through hands-on learning.
JA equips young people with the employment and entrepreneurship skills and mindsets they need to succeed. By building abilities and nurturing self-belief, JA prepares youth for the future of work, ensures they have the tools to be financially capable adults, and teaches them to think entrepreneurially.