Junior Achievement returns to Hamilton Ontario!
Rotary Hamilton is pleased to announce that Junior Achievement of South Western Ontario (JA) is expanding its reach to offer JA programs to youth in Hamilton. Rotary has been a long-time supporter of JA, and we are thrilled that our city will now have access to these valuable programs. JA offers a unique blend of classroom learning and hands-on experience, providing students with the skills and knowledge they need to succeed in the ever-changing world of work. With Rotary's help, JA will be able to reach even more young people in our community and help them prepare for a bright future.
The Junior Achievement Dollars with Sense in-school program will take place March 21st 2023 at Cathy Wever School. Grade 6, 7 & 8 students will participate in this one day program.
The JA World of Choices Program will take place on April 19th 2023 at McMaster Innovation Park. The Rotary Club of Hamilton is a proud sponsor and thanks the Hamilton Community Foundation ABACUS Grant for support.
Have you thought about being a JA Volunteer?
ROTARY HAMILTON SPONSORS JUNIOR ACHIEVEMENT HAMILTON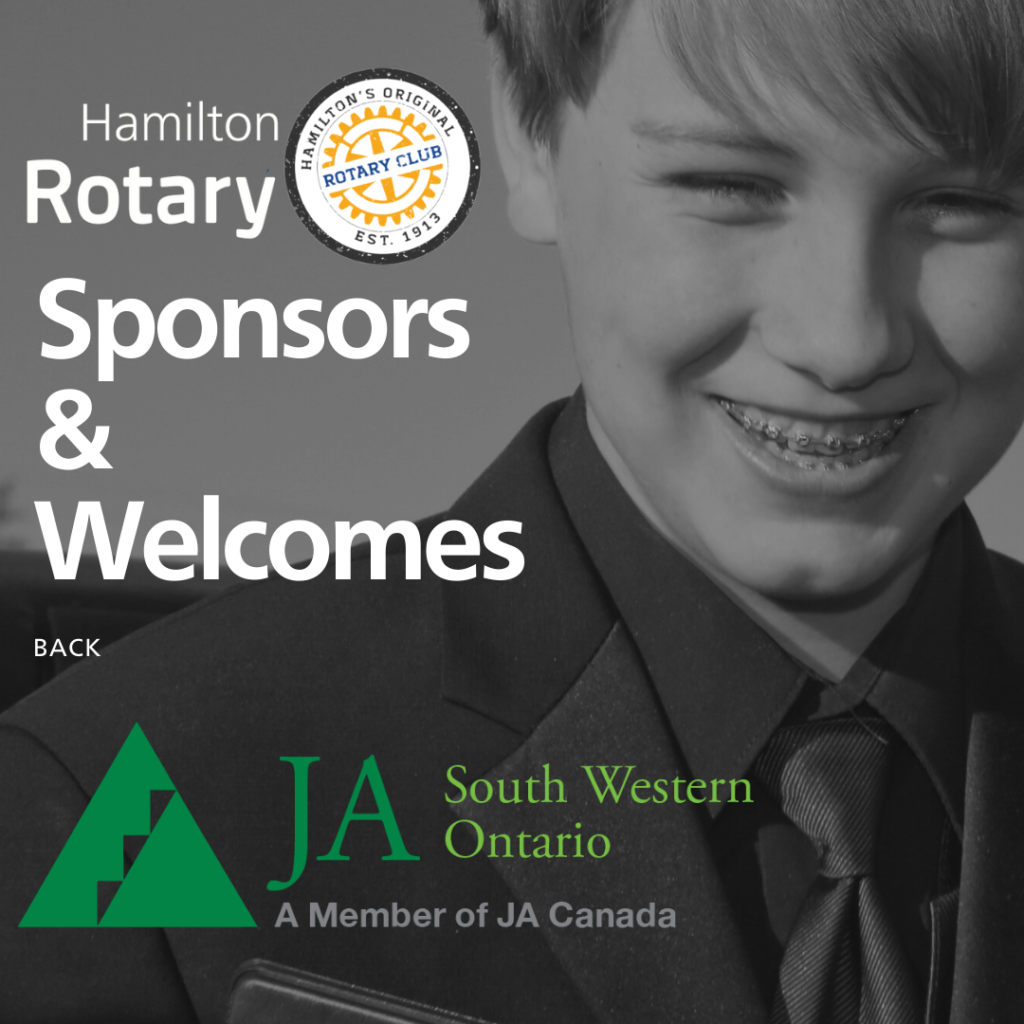 As the first sponsor, Rotary Club of Hamilton is thrilled to help launch JA programs back into Hamilton. JA programs will be offered to all grade 6, 7 & 8 students at Cathy Wever School this spring thanks to this partnership with Rotary Hamilton. Rotary Hamilton is committed to supporting youth in our community and we are excited to offer this opportunity to the students at Cathy Wever School.
Rotary Hamilton has a long history of supporting Junior Achievement (JA) in Hamilton. Rotary Hamilton was one of the original sponsors of JA in Hamilton, and in 1980 Rotary Hamilton donated $35,000 towards the program to help tomorrow's entrepreneurs. Rotary Hamilton has remained a strong supporter of JA over the years, and many JA alumni have gone on to become successful businesspeople and leaders in their communities. Rotary Hamilton is proud to play a role in helping young people realize their potential and prepare for success in the business world. Rotary Hamilton's support of JA is just one example of its commitment to invest in the future of our community.
JOIN AND BE PART OF JUNIOR ACHIEVEMENT HAMILTON
We are looking for JA Alumni, past participants, sponsors and donors to help build JA in Hamilton. Rotary Hamilton has been a major sponsor of Junior Achievement (JA) programs in the Hamilton Area many years ago. Rotary members volunteer their time and expertise to work with JA students in schools, delivering programs that teach them about business, entrepreneurship and financial literacy. As a result of Rotary's involvement, thousands of young people have had the opportunity to develop skills that will help them succeed in the workplace. Rotary Hamilton is now seeking JA Alumni, past participants, sponsors and donors to help build JA in Hamilton. If you are interested in joining Rotary Hamilton or sponsoring a JA program…
We'd love to have your corporate support. We need volunteers, materials, supplies and further mentorship with donations. CLICK HERE to get more details.
More information about Jr. Achievement Hamilton you can visit

Summary of Jr. Achievement South Western Ontario.
At JA South western Ontario, we believe in the boundless potential of youth—and we create opportunities for them to explore this potential through hands-on learning.
JA equips young people with the employment and entrepreneurship skills and mindsets they need to succeed. By building abilities and nurturing self-belief, JA prepares youth for the future of work, ensures they have the tools to be financially capable adults, and teaches them to think entrepreneurially.