What is Rotary Hamilton? Over 105 years old, the Rotary Club of Hamilton was one the first clubs to be chartered in Canada. We are rich in history, yet we are also rich in diversity. Our membership of proud Rotarians represents a broad range of people, differing in their professional and personal experiences, yet bonded by our commitment to community service.
As Hamilton's Original Rotary Club, we are committed to literacy, children & youth projects that improve our local and international communities. As Hamilton's premier service club our members demonstrate the Rotary Motto "Service Above Self" while enjoying the opportunity for networking and fellowship.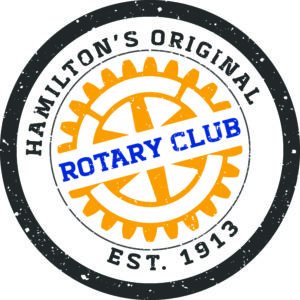 Rotary Club of Hamilton Programs we support
The Rotary Club of Hamilton is proud of their signature activities the Rotary Summer Literacy Program and the annual Children's Christmas Celebration. Educating minds, filling tummies and putting the smiles on the faces of over 4500 local children each year. Our club proudly supports Hamilton Community Foundation as part of our dispersants of funds we collect over the year The networking and fellowship of members makes the Rotary a great organization to be part of.
It's amazing what we can accomplish when hearts and minds work together. See how leaders from Hamilton, are taking action to enhance health, empower children and youth, promote peace, and improve their community.