Rotary International is the world's first service club organization. Rotary is a worldwide organization of more than 1.2 million business, professional, and community leaders who volunteer their time and talent to further the Rotary motto, Service Above Self.
Become a Member of the Rotary Club of Hamilton
Welcome! As a potential new member, you'll get a chance to become more involved in your community and to provide aid to other parts of the world through the opportunities that the Rotary Club of Hamilton and Rotary International offer.
Long-time Rotarians agree that involvement is key to getting the most out of membership. Volunteer to serve on a committee that meets your interests, be a greeter for weekly club meetings, or to join a service project team. These activities will help you get to know your fellow club members and better understand the work of Rotary.
If you'd like to become a member of Rotary or know someone that you feel would be a great representation of our club, please feel free to download the Application Form, fill it in and send back to our members committee, Heather Moroz, John Clinton
Rotary Club of Hamilton Announces NEW Membership Categories!
The Rotary Club of Hamilton has several Membership Categories. There is one that fits you!
Rotarian – All the benefits and privileges of full membership.
Organization Multi-Member – This corporate style membership allows for up to 3 members from one organization. A great opportunity for senior management and mentoring young professionals within your organization
Friend of Rotary – A non-member, but an great way to still be connected to Rotary and be part of our community service projects.
Young Professional – Under 36 years of age, want to network and gain vauable skills and connections while giving back to our community….we offer a 46.5% rate reduction!l
Come visit one of our meetings, attend a fundraiser or volunteer to help with one of our service projects. What better way to experience Rotary than being part of it! No secret handshake, no hat, and no secret code.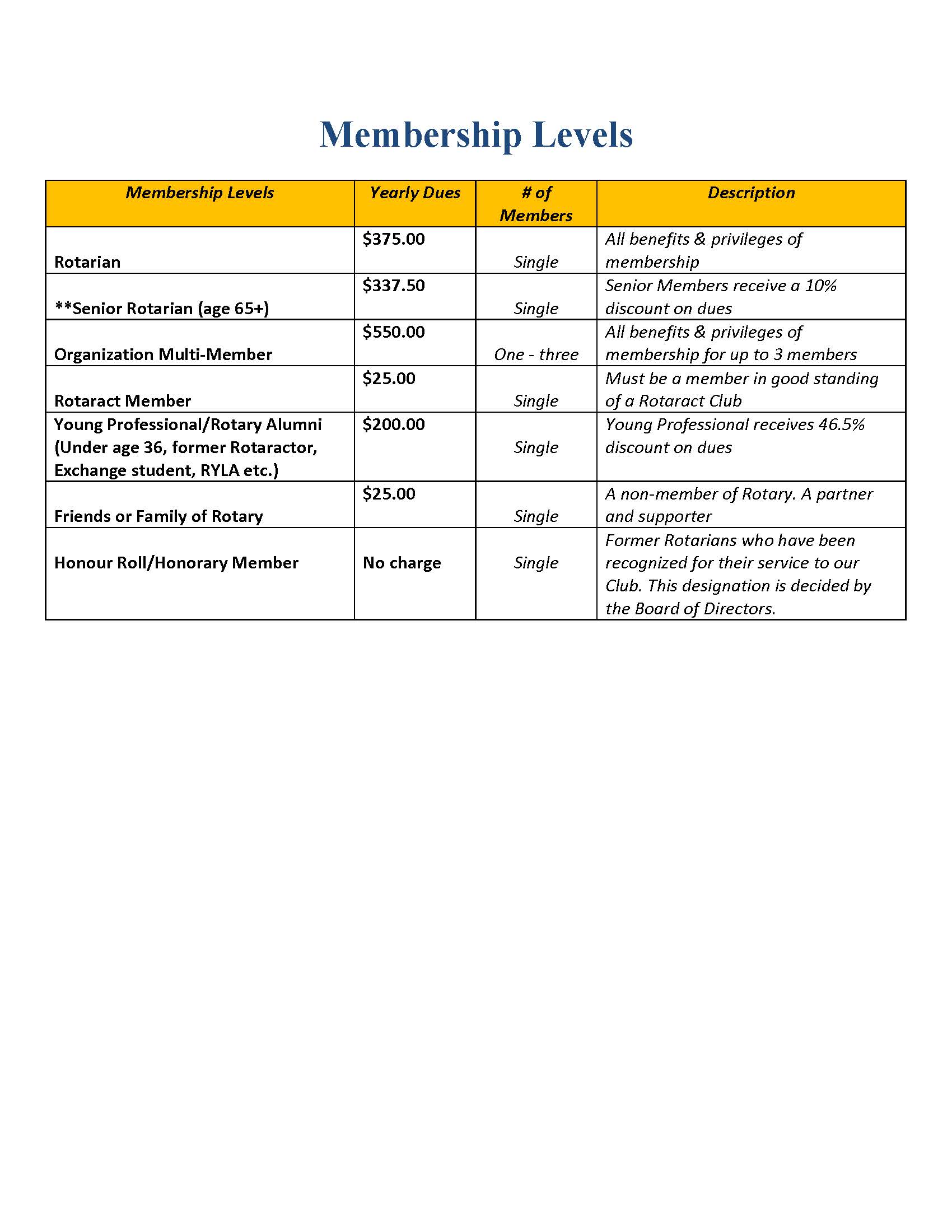 Rotary Club of Hamilton…..Making a difference
In our Local and International Community……
Our Local Community
Literacy & Nutrition programs in the Wever Community Hub
Support "Out of the Cold Project"
Summer Camp
Adopt-a-Park program at Jackie Washington Rotary Park
Our International Community
Polio Eradication – Polio Plus Campaign
The Salem India Literacy Project
Shelterbox – Disaster Relief
Ambassadorial Scholarships
Youth Exchange Program
Rotary World Peace Fellowships
"The extraordinary dedication of Rotary members has played a critical role in bringing polio to the brink of eradication," says Bill Gates, co-chair of the Bill & Melinda Gates Foundation. "Eradicating polio will be one of the most significant public health accomplishments in history, and we are committed to helping reach that goal." -Bill Gates Founder Microsoft
The Rotary Club of Hamilton's first meeting was held in the Private Dining Room at Fong Young's Cafe 26 King William Street Hamilton on Thursday June 26th, 1913 at 1.10 p.m. in the afternoon. The Hamilton Club became the 3rd Rotary Club in Canada and the 82nd Club chartered by Rotary International. Today the Rotary Club of Hamilton meets at the prestigious Art Gallery of Hamilton. As Hamilton's oldest and largest club our vision is to "Engaging the Hamilton community to enable children and youth, locally and internationally, to reach their full potential"
Take the opportunity to Network, Make Friends, Serve our Community and have Fun!

Join us…..
No secret handshake…
no funny hat to wear!

Rotary Club of Hamilton
Meets Thursdays at Noon (see our events page for more details)
At the Visitor's Inn (Hungry Traveler) 649 Main St W
Please join us for lunch, a great speaker and
Make a difference in our community!
For more information about the process to being considered as a member,
contact:
Rotary Club of Hamilton
Office: (289) 639-2919
E-mail: admin@rotaryclubhamilton.ca