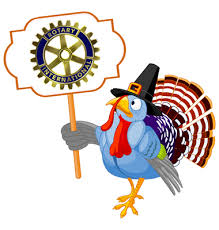 As a student in grade 2 my teacher asked us to think about what we are thankful for on Thanksgiving. She asked us to draw a collage of the things and then share with the class. This Thanksgiving I think each Rotarian should create a picture collage in their mind of the things we should be thankful for as Rotarians.
The family of Rotary. The friendships we have with each other, the opportunity to gather each week to talk and network. Some of my best friends are Rotarians, both in our Rotary Club as well as other clubs locally and internationally. This is one of the reasons I attend our weekly meetings, to see and get caught up with fellow Rotarians!
I also picture the faces on children who are thankful for the service we do. The smiles on the faces of children at the annual Children's Christmas Celebration, or the face of a child who just experienced our Summer Literacy Program. Who can forget the children who are actively engaged in laughter in our after school program or who just finished a nutritious snack when they felt so hungry. I am thankful that Rotary and the service projects we do provide me with the opportunity to see a child smile and laugh.
I am thankful to Rotary for the opportunity to give back, as we are all so fortunate for so much we have. Together as Rotarians we make a difference each day. We continue to fight polio around the world, provide Shelterboxes after disasters, and provide a book so a child can enjoy a bed time story!
This Thanksgiving I will take some time to say thanks for the ability to Make a Difference as a Rotarian, time to rest and get prepared to continue to do Service Above Self…as we have so many counting on us as Rotarians to serve our community.