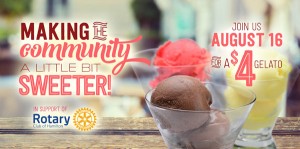 MARK THE DATE:
Valentino's has kindly donated all the sales of the Gelato on August 16, 2014 to the Rotary Club of Hamilton from Noon to 4pm at both locations
Valentino's Restaurants (located at 824 Main Street West and 835 Paramount Drive Hamilton)
Tell your friends, family and strangers to enjoy a Gelato for the day in support of our club.   Please see the following information that describes further the Event.
Local restaurant hits the sweet spot
Valentino's is giving back to the Rotary Club of Hamilton
HAMILTON, ON – On Saturday August 16th, 2014 from 12:00 pm (noon) to 4:00 pm, Valentino's Restaurants (located at 824 Main Street West and 835 Paramount Drive Hamilton)
are inviting Hamiltonians to come out and enjoy their new gelato, with all proceeds going to the Rotary Club of Hamilton. "Just in time, before the end of summer" Owner, Paul Spadafora says "We perfected our Gelato after years of trying different recipes and we wanted to share it with Hamilton and really liked what the Rotary Club of Hamilton does in the community and wanted to support this great organization".
The Rotary Club of Hamilton was excited about this opportunity with Valentino's and Rotary Club of Hamilton President, Peter Quaglia states "It's exciting to have local businesses like Valentino's that help our community. We were delighted to not only hear they were donating to our club, but further that we get to enjoy Gelato at the same time"
Valentino's will be making the presentation of the cheque from proceeds to the Rotary Club of Hamilton on September 11, 2014 at the Art Gallery of Hamilton during the Rotary's weekly meetings. Valentino's hopes to raise over $1,000 from the sales.
About Valentino's Restaurant
The first Valentino's location was opened in the late 70's, and no one could have predicted the impact it would have. It has never been just an eatery, it is a place for families to meet, lovers to share a romantic meal, and memories to be made. For more information, visit them online at www.valentinosrestaurant.ca
About Rotary Club of Hamilton
The Rotary Club of Hamilton was established in 1913 and has supported the local Hamilton community with programs like Cathy Wever Summer Camp and Telling Tales Festival just to name a few with a focus on improving literacy to children in downtown Hamilton. Visit www.rotaryclubhamilton.ca for information
Contact
To learn more about Valentino's, please contact
Paul Spadafora
845 Main Street West
Hamilton, ON L8S 1K4
905-523-4240
To learn more about The Rotary Club of Hamilton, please contact
Adam Oldfield, Director of Communications
155 John Street South
Hamilton, ON L8N 2C3
905-777-9503 ext 2