Today is the day. The 7th annual Telling Tales Festival. Telling Tales is a free, one-day, outdoor festival, and a year 'round commitment to promoting literacy and inspiring a love of reading
The Rotary Club of Hamilton is proud to be part of the festival in many ways: we are one of the hosts of the festival, a sponsor at the Gold Level, and many of our Rotarians volunteer at the festival. We are also happy that many of our Rotarians bring out their families to enjoy the festival. A great example of Rotary in Action!
Everyone Has A Story To Tell, Even Telling Tales!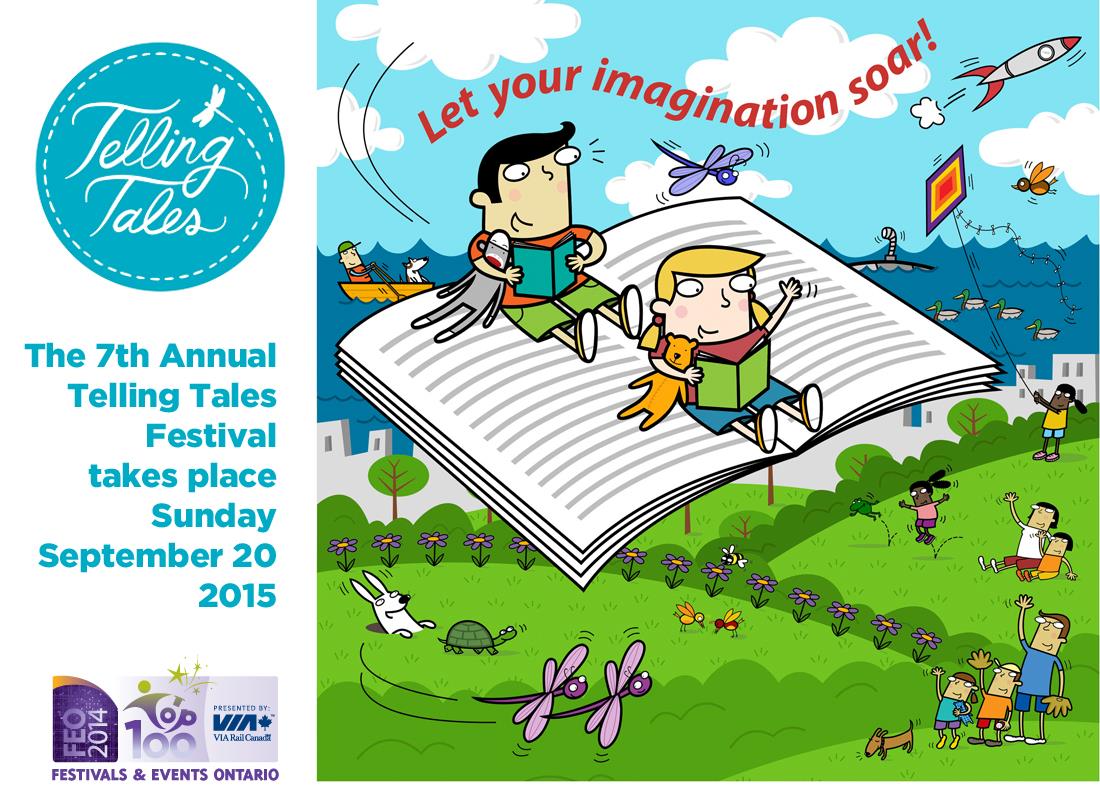 It begins, as all great stories do, with a vision.
Our dream is to have a wonderful festival that brings together kids and families, with children authors and entertainers.
This idea came to our founder, Susan Jasper, about 15 years ago when she was working in children's publishing at McClelland and Stewart.
She noticed there was a need for children's authors and families to have their very own festival, and not just be part of a kid zone at a larger festival. Plus she felt it should happen outside of Toronto where there is an overabundance of festivals.
The idea really started to take shape eight years ago when several things fell into place. Susan left publishing and moved back home to Hamilton. That's when she decided to join Rotary. "Literacy is very important to Rotary International," says Susan. "There is an understanding that by raising literacy standards, we can do much to alleviate poverty. It dawned on me that this just might be the group that would care enough about literacy to get a festival off the ground."
And at the time, The Spectator released a Code Red report about poverty in Hamilton. "The poverty roundtable was very much in the news and it was shocking to me that one in five were living below the poverty line in Hamilton," explains Susan.
Then her 10-year-old son decided to volunteer at Westfield Heritage Village. "So one sunny September day as I was out by the bandstand at the village, it just occurred to me that this was the perfect story tale village where this dream festival could come together."
Westfield always had an Anne of Green Gables day, but after the book's 100th anniversary, decided it was time for a change. "So my timing just happened to be perfect because they were looking for the next great thing," says Susan. "I pitched this idea of stories coming alive alongside history coming alive."
So in 2007 Westfield agreed to test the waters by adding a couple of author readings to their Anne of Green Gables day. This allowed us to experiment and gave us time to build relationships with community groups. After two years of planning and finding community partners "we felt confident enough to take it to the next level."
But the Telling Tales Festival almost didn't happen.
"I almost didn't have the nerve," says Susan. "I had this big idea and I didn't know where to begin, I had no experience with festivals or running large committees."
So she turned to her sister, and long-time Rotarian, Anne Bermingham. Anne suggested starting with a clear mission, which was great advice. We have been true to our mission since:
To build a national festival that promotes children's stories and a love of reading, while raising awareness and support for local literacy in our community.
What started out small quickly grew and gained supporters along the way. Susan also initially worked closely with Bryan Prince, from Bryan Prince Bookseller and June Dickenson, a prominent freelance publishing publicist and editor. Realizing the importance of early literacy, they were offered a warm welcome and strong support from community partners such as Early Literacy Hamilton, the Hamilton Public Library, The Spectator and both Hamilton school boards. "The whole thing kept snowballing from there," says Susan. "It just struck a chord – and everyone said "let's make this happen"."
Telling Tales is more than just a one-day event. Our long term goal is to strengthen and support much needed literacy programs in the Hamilton area and our surrounding communities, all year long. To date over $70,000 has been raised for local literacy projects in our community.
"The festival is all about encouraging parental engagement. At the school boards and the libraries wonderful things happen when kids are exposed to authors and readings, but if the child goes home to a culture where there is no excitement about reading, much of the good work is lost," explains Susan. "Telling Tales is about exciting and inspiring a love of reading with the whole family."
What began as a big dream is now going into its sixth year. As Susan has shown us, everyone can turn their dream into reality.
Thank you to the entire community team for making this dream happen!