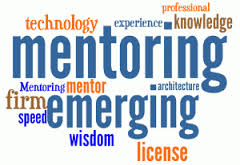 Mentors have inspired each of us and played an important role in who we have become. Mentors have played a major role in shaping our worldview and selection of career paths.
On Monday January 19th, inside the Alumni Hall at McMaster University a group of young people will gather. One by one, half the participants disappear into rooms and await with questions.
A signal is suddenly heard and then the other half move off to designated locations. Ten minutes later another whistle is heard, and a flurry of movement occurs as bodies rush to their next session. "Ah," you might be thinking to yourself, "sounds almost like speed dating."
Close, but no cigar. This is speed mentoring, a relatively new concept in facilitated networking, and half the participants here are job seekers looking for advice on how to break into their fields. The other half are successful professionals who have accumulated experience in their areas of expertise and volunteered to share some of their insights on this frosty winter night.
The job market has grown very competitive and most young people switch jobs quite frequently. These University student are looking for advice, seeking some guidance and the mentors are willing to share their life and work experience. The overall objective of speed mentoring: to point young folks in the right direction for career development and share experiences in an exciting manner.
This speed mentoring session is a great example of the Rotary Club of Hamilton's ability to reach young people in our community. Rotarians are always willing to serve the community, but on Monday, these Rotarians will help reach out to future leaders and future Rotarians. The Hamilton McMaster RotorAct Club partner with the Rotary Club of Hamilton to offer this speed mentoring session.
Mentors include successful entrepreneurs', a Director from the United Nations University Institute of Water, an Occupational Therapist, Lawyers, Accountants, Architect, CEO's, Management Consultants, Political Activists, Financial and Career Councillors and a City Councillor.
Traditional mentoring typically involves goal-specific, one-on-one matches between an experienced individual with a protégée who work together to enhance the protégée's skill level in a specific area or work towards solving some kind of problem. The relationship typically progresses over a period of time until a mutually-agreed-upon solution has been found, or termination occurs.
Speed mentoring dispenses with those formalities, jumps straight into the problem, and thus straight into potential solutions, and occurs between two people with little or no preconceived notions about the other.
The Speed Mentoring Session will be an opportunity to share experiences, lessons and wisdom while creating and inspiring goals and dreams.