The Duty Roster has been sent out to all Rotarians and includes roles and responsibilities that will take place during both in person and virtual meetings. Please review the Duty Roster for information and dates of your duty. If you are unable to conduct your duty, it is your responsibility to find a replacement and inform the Sergeant at Arms of the change.
Bring Back Rotary Stronger….
As we Re-open Rotary there are a number of considerations to "Bringing Rotary Back Stronger"
As a Rotary Club, we must remain diligent about COVID, while returning to normal operations as a Rotary Club. In-person meetings encourage fellowship, networking and engagement in Rotary.
We will also be introducing hands on service projects, socials and We are pleased to be Re-Opening Rotary! Beginning in March 2020, the Rotary Club of Hamilton will begin to hold in-person Rotary Meetings and events. The health and safety of our members, the community and organizations we serve is of the utmost importance.
The Rotary Club of Hamilton will follow the guidance of the Province of Ontario and take direction from the provincial Chief Medical Officer of Health, our local Medical Officer of Health and other public health officials. We will also follow guidelines and policies set by our location and event partners.
Rotary @ Noon Meeting Information:
We will be operating on a hybrid Rotary meeting schedule. We want to engage all Rotarians and Friends of Rotary to attend our Rotary @ Noon Meetings and feel comfortable and safe while participating.
The Rotary Club of Hamilton is introducing the following Rotary @ Noon Schedule:
1st Thursday of the Month – No Rotary @ Noon Meeting
2nd & 4th Thursdays of the Month – Rotary @ Noon In-person meetings
3rd Thursday of the month – Rotary @ Noon Virtual Meeting on Zoom
All Rotary @ Noon Meetings will begin at 12:00 p.m. and be completed at 1:00 p.m.
Rotary @ Noon -In Person meetings
Our Rotary @ Noon In-person meetings will be held at McMaster Innovation Park (MIP).
The consideration and discussion to move lunch meeting locations was due to increasing lunch fees. McMaster Innovation Park is providing a meeting room at no-charge and has all of our AV requirements. Rotary lunch will remain at $25 (cash/cheque) or $26 if you use credit card.
There is a parking fee, but it is included in your $25 lunch fee. MIP will be providing Rotary with a parking code and will invoice Rotary monthly. We will be using several local caterers.
Local caterers will provide individual meals (buffet in the future). Minimum 15 people and orders would need to be place one week in advance. We will be asking Rotarians to RSVP the week prior. RSVP for meetings can be emailed to admin@rotaryclubhamilton.ca.
If you are inviting a guest and/or have dietary requests, please include the information in the RSVP email. If a Rotarian RSVPs to attend a lunch meeting and is unable to attend, the Rotarian is still responsible for the lunch fee.
At this time, McMaster Innovation Park requires face masks to be worn in all areas of the facility and while standing and moving. Masks can be removed while seated and eating.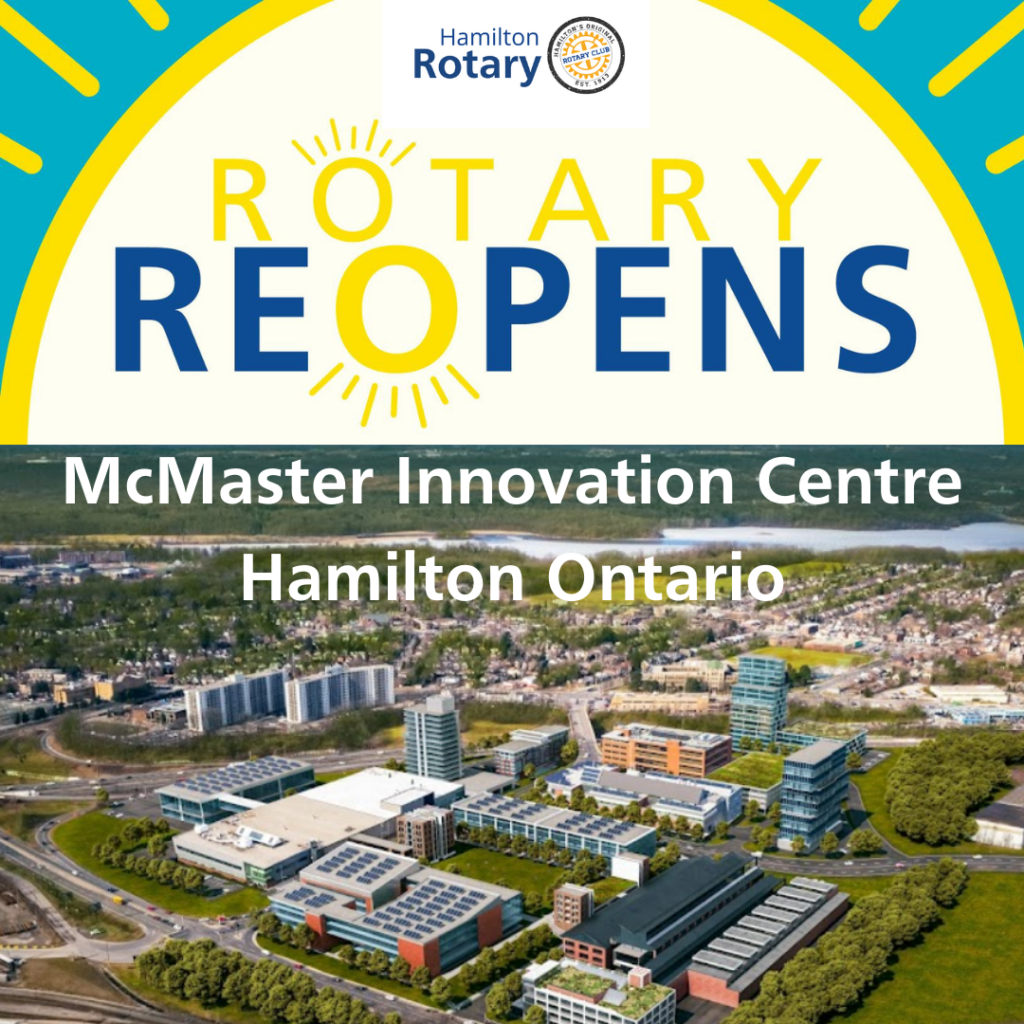 Duty Roster
fundraising events, all in a safe and planned manner.
The pandemic has taken a devastating toll on our community. The needs of the community will be greater, and as a Rotary Club we will be asked to help and support.
BRING BACK ROTARY STRONGER
As we Bring Back Rotary Stronger, we need engaged Rotarians. Please make time for Rotary meetings, events and socials. Participate in being an active and engaged Rotarian. The fellowship and network of Rotary is vital to enjoying and being part of a strong Rotary Club with over 100 years of service to our community!