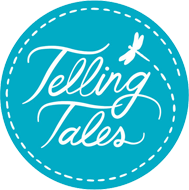 Telling Tales presents $12,000 to local literacy organizations; with Rotary Club of Hamilton receiving $5000
HAMILTON, ONTARIO – November 24, 2015: The Telling Tales Festival is a one-day event, combined with a yearlong commitment to promoting literacy and inspiring a love of reading. One way we do this is by donating back to local literacy organizations. "It's incredibly satisfying to be able to give $12,000 back to literacy projects within our community," says Susan Jasper, Telling Tales Festival Chair & Founder. "These organizations are important literacy resources in the Hamilton community and each have played an active role in building and supporting our festival."
Since 2009 Telling Tales has raised just over $99,000 for literacy projects in our community! The Telling Tales Festival relies on the generosity of sponsors and donors. After all the operating costs are covered, a portion of the remaining funds are donated back into community literacy initiatives.
Each year a committee of Rotarians review funding proposals. The Committee is comprised of representatives from Rotary Clubs that support at the Silver and Gold sponsorship level. This year they included Rotary Club of Burlington Central, Rotary Club of Burlington Lakeshore, Rotary Club of Dundas, Rotary Club of Dundas Valley Sunrise, Rotary Club of Hamilton, Rotary Club of Hamilton A.M., and Rotary Club of Waterdown.
Rotary Club of Hamilton Summer Literacy Program: $5,000
The Rotary Club of Hamilton Summer Literacy Program focuses on literacy development of at-risk youth in Hamilton. Based out of the Wever Hub, it acts as a bridge over the summer months to provide these children an opportunity to develop literacy skills. The funding will be used to continue to offer 200 additional sessions of camp for program participants."This year we hope to provide over 2,000 primary/junior students in high needs communities and around the city with a dynamic full day, five week summer program operated in the inner city," says Robert Blunsdon, Program Director of the Rotary Summer Literacy Program. "Our program is designed to engage, enrich, educate and excite, creating a truly special summer learning experience for one and all."
About Telling Tales
Telling Tales celebrates stories. We do this by bringing together Canadian authors, illustrators, musicians and storytellers with their audience – our children. Telling Tales is a free, one-day, outdoor festival, and a year 'round commitment to promoting literacy and inspiring a love of reading.