Rabbi Bernie Baskin was a beloved member of the Rotary Club of Hamilton since February 1, 1981 and was greatly respected among people within the club and beyond. Rabbi Bernie passed away at the age of 102, leaving behind an awe-inspiring legacy that will surely continue on.
Rotary Hamilton President Cathi MacDonnel was on CHCH TV speaking of the contributions of Rotarian Bernie Baskin
He had a sense of humour and wisdom that was treasured by all who got to know him. Rabbi Bernie's passing is truly felt by everyone in the Rotary family, all around the world. We are thankful for his life and though he may no longer be with us physically, his spirit continues to live on amongst us all.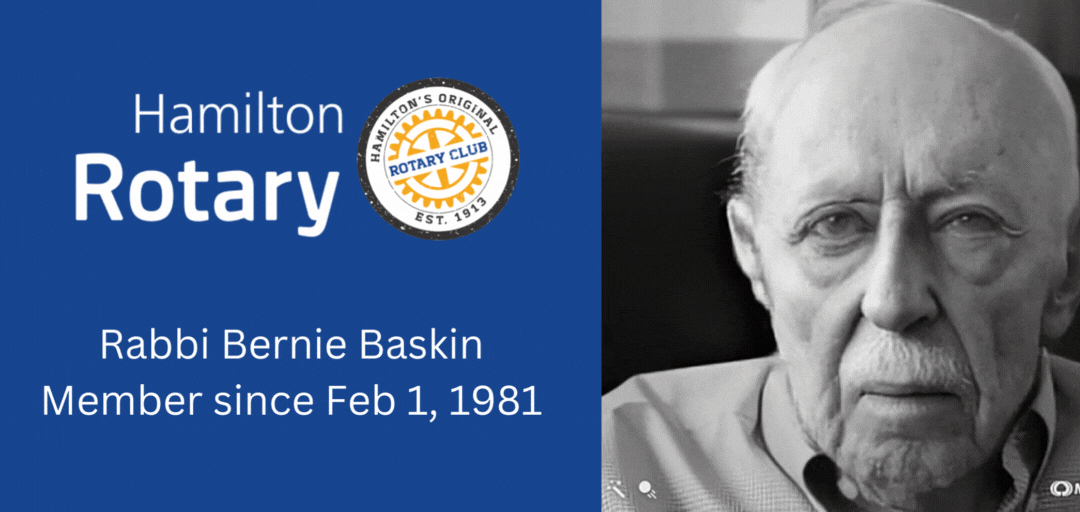 From the Temple Anshe Sholom clergy biography:
Bernard Baskin graduated from Brooklyn College of the Jewish Institute of Religion, before moving to Hamilton in 1949 as rabbi at Temple Anshe Sholom. He believed in community life, serving the Art Gallery of Hamilton, Board of Governors of McMaster University and Hamilton Public Library, Hamilton United Nations Association, Kiwanis Club, Optimist Club, Rotary Club, Social Planning and Research Council, and Torch Club.
Rabbi Baskin and Mayor Lloyd D. Jackson were the first recipients of the B'nai B'rith Humanitarian Award. In 1963, he was named Hamilton's Jewish Community Man of the Year, he received an Honorary Doctor of Divinity degree from Hebrew Union College in New York. He was chairman of the Canadian Council of Christians and Jews and was made an Honourary Big Brother. His exemplary service to Hamilton, his adopted home, continued unabated for over four decades. In May 2018, Rabbi Baskin moved to Toronto to live closer to his family. He remained Rabbi Emeritus at Temple Anshe Sholom and in March, would have celebrated his 103th Birthday!
Rabbi Baskin leaves a great legacy and example of service above self in our community and beyond.