Little Rocks Curling Program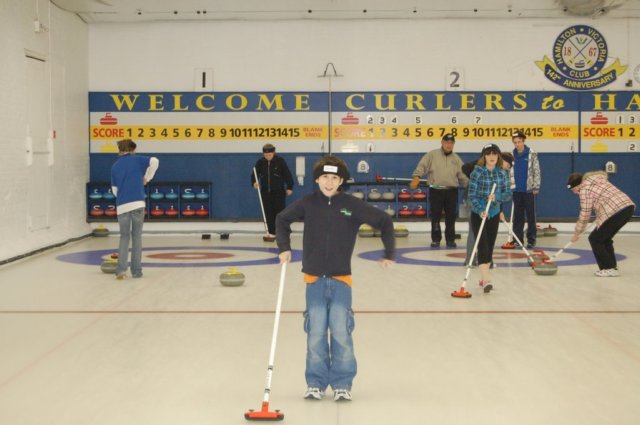 The Rotary Club of Hamilton supports inner city children and youth, literacy and worldwide projects. One of its local projects is the Little Rocks Curling Program offered at the WAVE Program.
Students who are mostly in grades 4 to 6. Two of their teachers walk with about 20 kids up Wentworth Street to King on Mondays during January, February and March to curl from 3:00 to 4:30 at the Hamilton Victoria Curling Club.
Rotarian John Clinton who initiated the curling program and is also one of the curling coaches says, "The program works because of the support of Cathy Wever School and the Hamilton Victoria Curling Club. The two teachers from Cathy Wever are experienced curlers and along with a volunteer curling club member, the four coaches provide instruction and supervision to the children. Lori Kyle, the principle at Cathy Wever and a former gym teacher, understands the value of recreation and positive use of after school time."
Hamilton Victoria Curling Club has provided the use of their facilities at no charge. The curling club was having problems with vandalism and was looking for ways to reach kids in their community. The program is designed to build awareness of a downtown curling club as well as showing respect for facilities and others in the community. And because The Rotary Club of Hamilton has a history of working with inner city kids this was a unique opportunity to engage another group of young people.
Curling is played (and taught) with a lot of respect for the game and your opponent. Curlers shake hands before and after each game and wish the other team "good curling". Curlers also call their own fouls and penalties and take pride in clean, honest play.
The children have fun, are positively engaged in a healthy after school activity and for the volunteers, the opportunity to mentor and build positive relationships are also key to the success of the program.
The Rotary Club of Hamilton provides a small amount of funding to provide a nutritious snack each week and purchase some curling equipment. On the last day of curling the kids finish the season with a mini game followed by a pizza and ice cream party. Then they start getting ready for the next year.